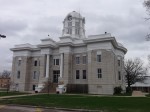 Kathy Kiddoo has served as Scotland County Treasurer since 2011. The County Treasurer is the custodian of all county money.
117 S. Market St. Memphis, MO 63555
Kim Nicoli has served as Associate Circuit Judge since 2019 and previously served 18 years as Scotland County Prosecuting Attorney.  The Circuit Court of Scotland County is a court of general, civil and criminal jurisdiction handling civil, criminal, domestic relations, juvenile, probate, and small claims matters.
117 S. Market St. RM 200 Memphis, MO 63555