Pheasant Airplane Association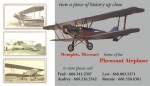 The plane was manufactured in Memphis, Missouri right before the Great Depression. During the winter and spring of 2012, the Pheasant Airplane Committee formed with the goal of purchasing one of the three Pheasants in existence. With the help of numerous donations, the group raised $75,000 and were able to purchase the plane from Tim Dahlen and Ed Katzen in Long Island, New York.
The plane is located in Memphis, MO and can be viewed during the Scotland County Antique fair or by appointment!